Fluoride Concentration in Drinking water in The Libyan City of Zliten: Dental Perspective
Keywords:
Fluoride, Drinking water, water fluoridation, dental fluorosis, Zliten
Abstract
Background: Having optimally fluoridated drinkable water supply is important to reduce the prevalence of both dental decay and dental fluorosis. This research aimed to report all possible drinking water sources and their fluoride content in the Libyan city of Zliten.
Methods: This descriptive study  used a convenient sampling strategy to collect 68 samples from different drinking water sources across the city. The fluoride concentration was identified using potentiometric method by means of fluoride selective ion electrode.
Results: 31 source of desalinated water and 37 ground water source have been identified as drinking water. Moreover, the fluoride content was found to be much lower than recommended by the national and international standards for the desalinated water (0.047 ppm±0.062) while that of ground source was found to range from 0.9 to 2.23 ppm with a mean of (1.43 ppm±0.38).
Conclusion: People in the city have many choices for drinkable water, however, those who drink from the desalinated water consume less water-dissolved fluoride than those who rely on the ground water as a source of drinking. This reflects the fact that the residents have no equal chances to get the sufficient amounts of fluoride necessary for healthy teeth. Accordingly, more research is needed to evaluate the actual effect of this discrepancy in fluoride consumption on the population and consequently to implement the required strategies essential to assure optimum oral health for the whole population.
Downloads
Download data is not yet available.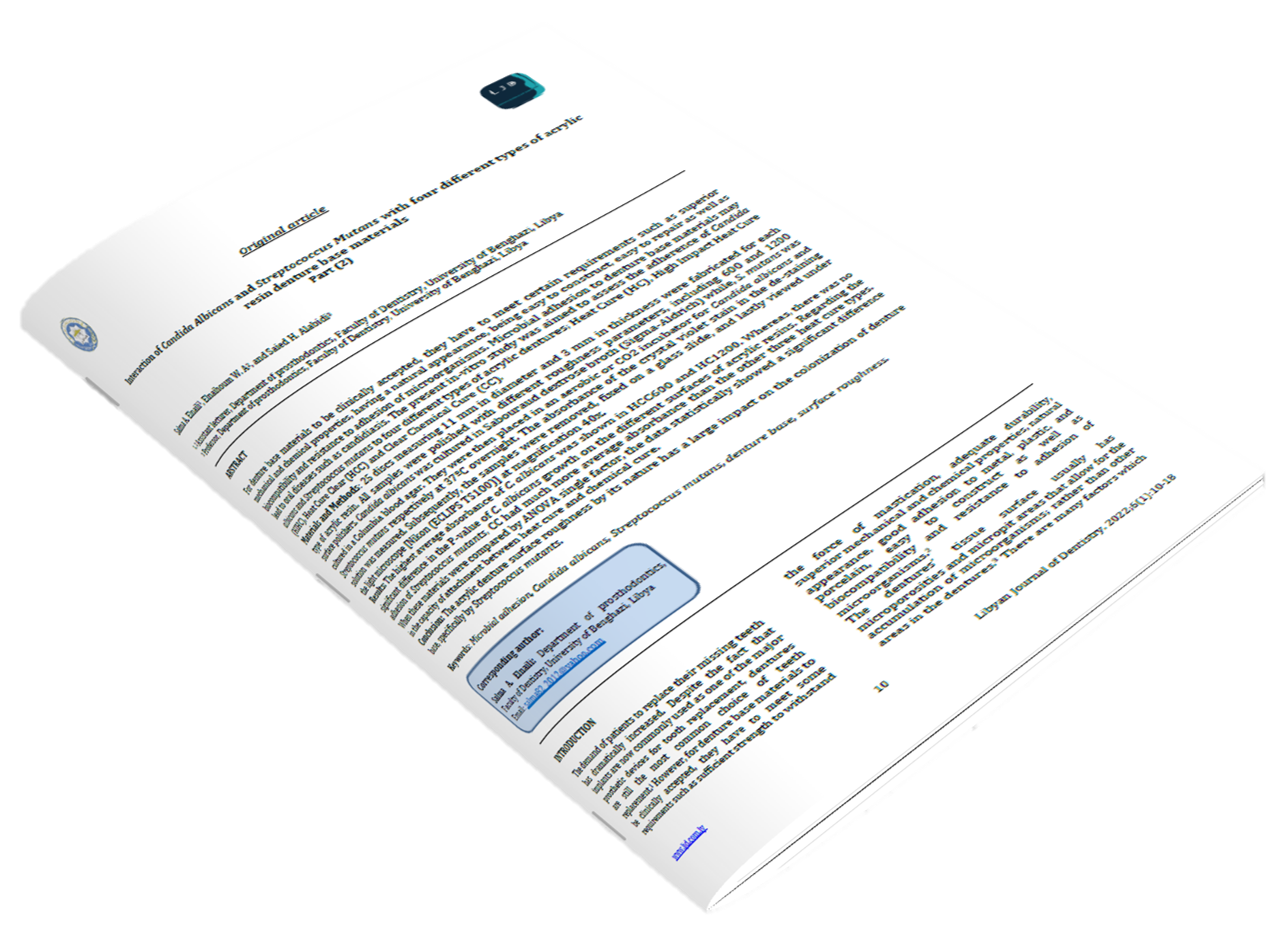 Downloads
How to Cite
Swisialgdar, M., Gaber, A., & Faraj Abogamiza, M. . (2022). Fluoride Concentration in Drinking water in The Libyan City of Zliten: Dental Perspective. Libyan Journal of Dentistry, 6(1), 4–9. Retrieved from https://journals.uob.edu.ly/LJD/article/view/3724
License
Copyright (c) 2023 Libyan Journal of Dentistry
This work is licensed under a Creative Commons Attribution-NonCommercial-NoDerivatives 4.0 International License.