Infection Control Practice: A cross-sectional Survey on Dental Laboratory Technicians in Benghazi, Libya
Keywords:
infection control, disinfection, cross-contamination, dental technicians, dental laboratories
Abstract
Objectives: Infection control represents the main concern in dental laboratories in recent years regarding the perceived risk of patients and professionals from getting infected. Even if the dental technicians do not come in direct contact with the patient's oral cavity, there is a risk of contamination from the prosthetic items coming from the dental office. The purpose of this study was to evaluate the knowledge, attitude, and practice of dental lab technicians toward infection control protocols at the dental laboratories of Benghazi, Libya.
Materials and Method: A descriptive cross-sectional study was conducted among prosthodontic dental technicians in the city of Benghazi, Libya. A self-administered questionnaire was distributed as a hard copy to the dental lab technicians working at both governmental and private dental laboratories (3 governmental and 7 private dental laboratories). The data was conducted using the SPSS program (SPSS 16 for windows, SPSS Inc., Chicago, USA); a P-value of 0.05 or less was considered significant.
Results: The response rate among dental technicians was 93%. The major age group of participants was (21-40 years) who work in a private dental laboratory with less than ten years of experience. 60.2% of the technicians had a valid hepatitis B vaccination, and 46.2% had received infection control training courses as part of their orientation, when respondents were asked about the most dangerous steps in the dental laboratory 60.1% of them answered dealing with impressions.
Conclusion: Within the limitations of the present study, the respondents demonstrated varying levels of knowledge, attitude and infection control practices. More efforts are needed to improve infection control practices and to apply appropriate policies in order to ensure the safety of the technicians and patients.
Downloads
Download data is not yet available.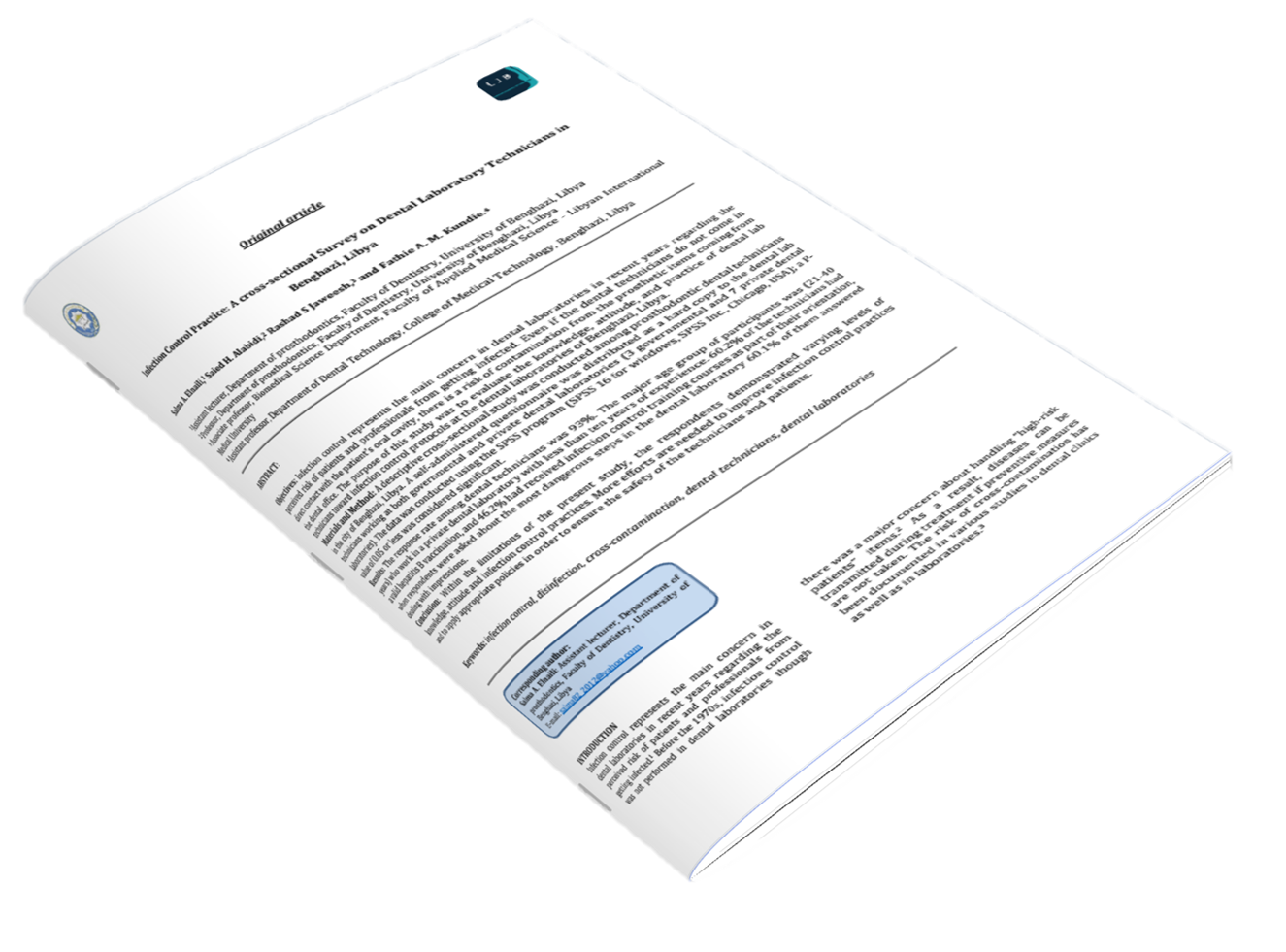 Downloads
How to Cite
A. Elnaili, S., Alabidi, saied, S Jaweesh, R., & A. M. Kundie, F. (2022). Infection Control Practice: A cross-sectional Survey on Dental Laboratory Technicians in Benghazi, Libya. Libyan Journal of Dentistry, 6(2), 10–15. Retrieved from https://journals.uob.edu.ly/LJD/article/view/3745
License
Copyright (c) 2023 Libyan Journal of Dentistry
This work is licensed under a Creative Commons Attribution-NonCommercial-NoDerivatives 4.0 International License.