Quality of Orthodontic Records Keeping: A clinical audit
Keywords:
orthodontic records, clinical audits, quality, patient care
Abstract
Objectives:  To assess the quality of keeping orthodontic records. A further aim was to raise awareness of undertaking clinical audits to improve the quality of patient care.
Methods: Retrospective records of 50 patients undergoing orthodontic treatment at the Faculty of Dentistry, University of Benghazi, were collected to assess the quality of clinical record keeping in practice. The assessment was done by one orthodontist, by measuring 11 different criteria. Furthermore, to decide on any future changes to be done. Statistical analysis was done by descriptive analysis.
Results: The personal information were taken by 100%. Medical history was consistently checked but not updated or signed. 64% of cases came to the clinic with referral letters. The oral examination showed that 42% of patients had good oral hygiene, with 50% had fair oral hygiene, while, 8% with poor oral hygiene. 38% of patients had carious lesions. A form for treatment plan consent was not used, it had been taking verbally by 98%. The skeletal pattern showed, class I by 42%, class II was 52%, while class III accounted for 6%. On the other hand, dental malocclusion showed the following: 30% of class I, 56% class II division 1, 6% class II division 2 and class III 8%.
Conclusion: This self-audit highlights the shortcomings in the collected records.  Furthermore, this procedure shows how an audit can be performed in any area of orthodontics to improve the quality of patient care.
Downloads
Download data is not yet available.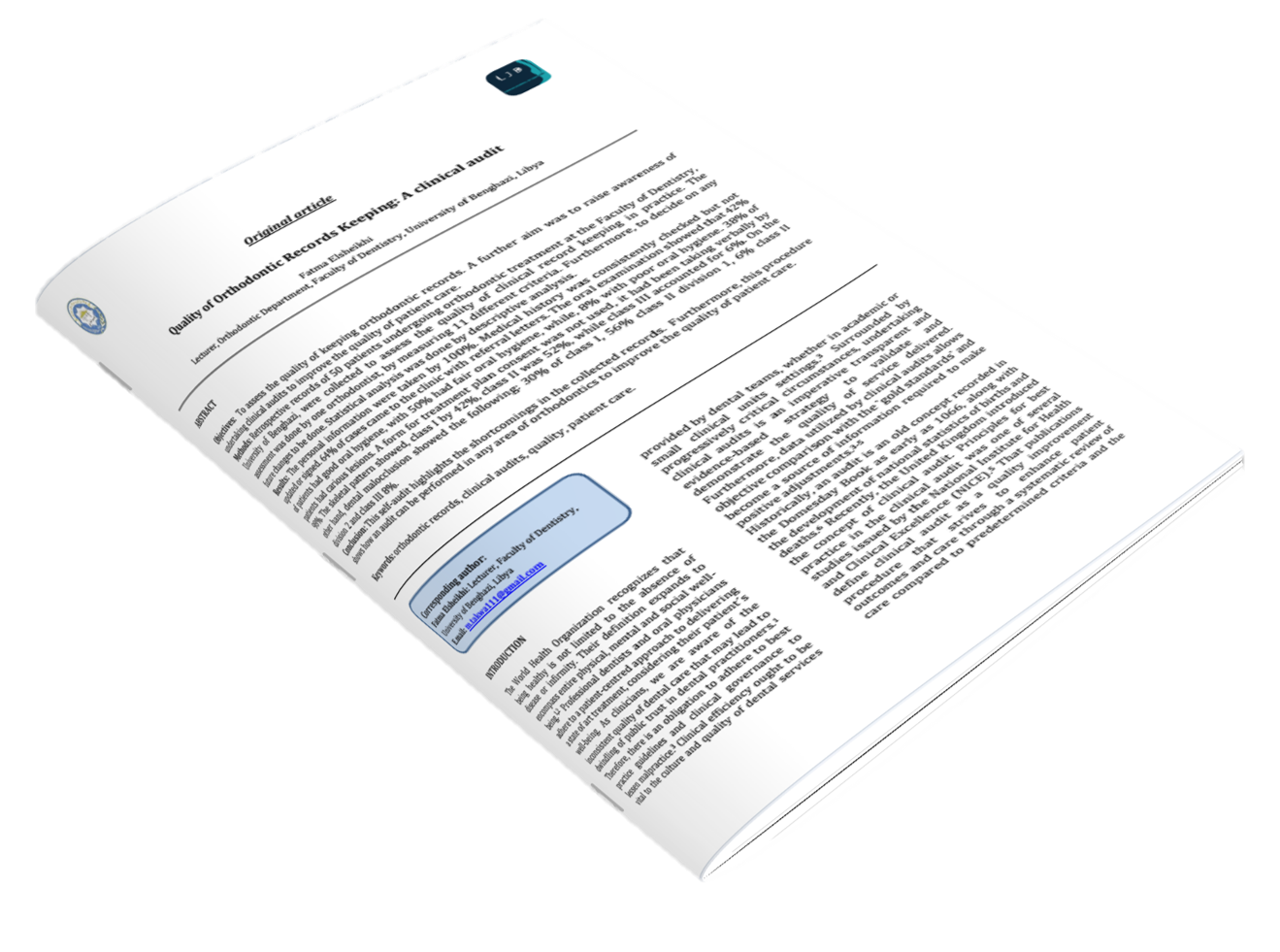 Downloads
How to Cite
Elsheikhi, F. (2022). Quality of Orthodontic Records Keeping: A clinical audit. Libyan Journal of Dentistry, 6(2), 16–20. Retrieved from https://journals.uob.edu.ly/LJD/article/view/3747
License
Copyright (c) 2023 Libyan Journal of Dentistry
This work is licensed under a Creative Commons Attribution-NonCommercial-NoDerivatives 4.0 International License.