Evaluation of Intern Students Knowledge of Complete Denture Impression Practice in Benghazi University
Keywords:
knowledge, impression, technique, intern, final, primary
Abstract
Objectives: The aim of treatment with complete denture is to restore function and esthetics and maintain patient health. Making an accurate impression is a very critical factor for success or failure of the complete dentures. The aim of this study is to evaluate the knowledge of intern dental students about procedures followed in impression practice for complete denture construction in the city of Benghazi.
Materials and method:  This descriptive cross-sectional study was done amongst dental intern students in Benghazi city, Libya. A total of 120 students were selected randomly. A survey was conducted through a printed standard questionnaire with 13 multiple-choice questions, only 81 questionnaires returned. Data from the completed questionnaires were collected and analyzed, the statistical analysis was done using SPSS statistical software version 23 (SPSS, IBM, Armonk, NY, USA).
Results: Low knowledge scores were found regarding the final impression material, the tray fabrication steps (spacer and relieve holes) and the timing of previous denture discontinuation prior to the primary impression step. Also, a low level of knowledge was found regarding the stage of posterior palatal seal establishment. The scores for all the questions were calculated and tabulated; the scores 1,2 and 3 are low knowledge (57%), good knowledge (43%) and excellent knowledge 0% respectively.
Conclusion: The percentage of low knowledge level was significantly higher than expected, as observed in the overall results indicating that there are procedures and information about complete denture impression practice that remains unknown to the interns, which influence the denture satisfaction of the patient. Changes in the undergraduate education system to focus on these aspects may facilitate the interns to gain more knowledge regarding complete denture impression procedures especially final impression.
Downloads
Download data is not yet available.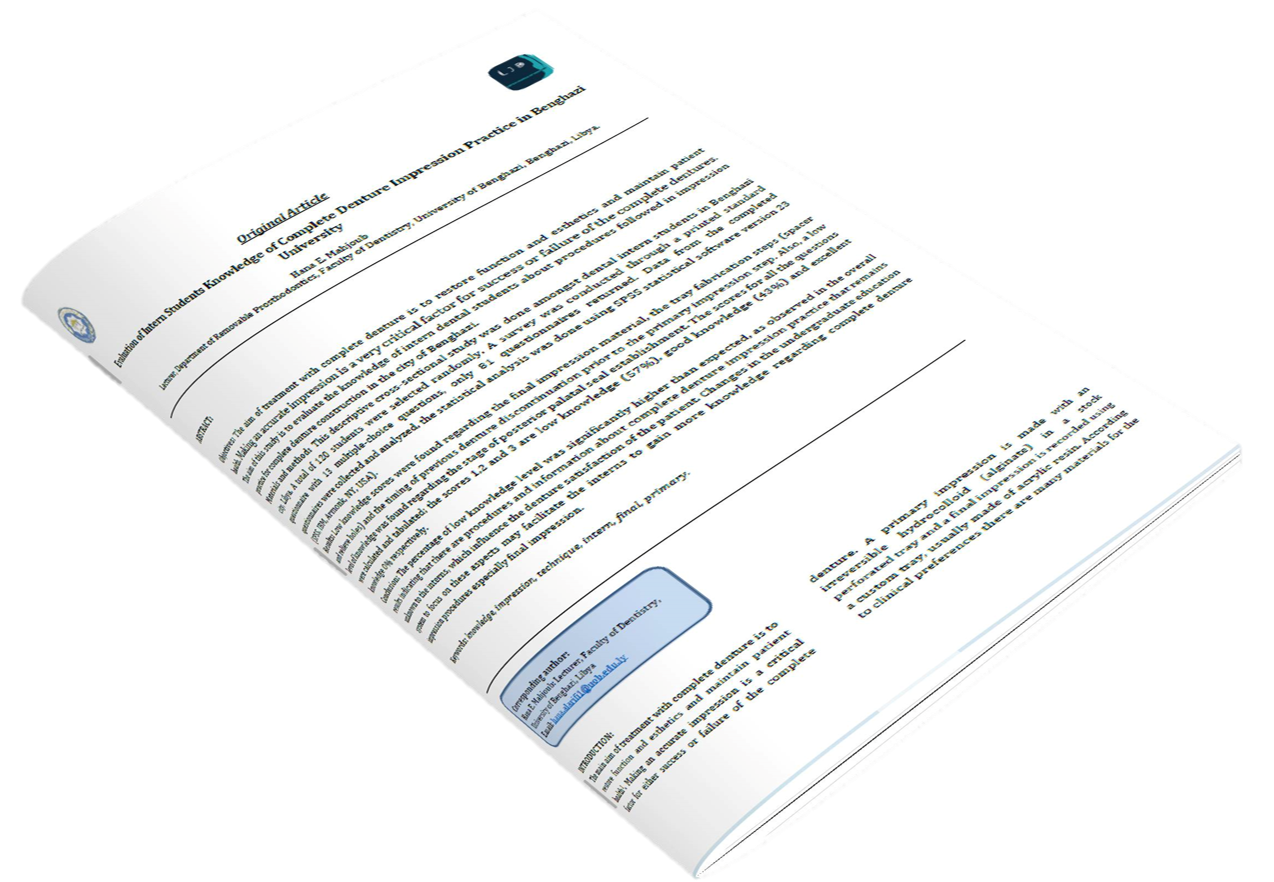 Downloads
How to Cite
Mahjoub, H. E. . (2023). Evaluation of Intern Students Knowledge of Complete Denture Impression Practice in Benghazi University. Libyan Journal of Dentistry, 7(1). Retrieved from https://journals.uob.edu.ly/LJD/article/view/4073
License
Copyright (c) 2023 Libyan Journal of Dentistry
This work is licensed under a Creative Commons Attribution-NonCommercial-NoDerivatives 4.0 International License.