The Effect of Training Programs on the Performance of Healthcare Workers at Benghazi Medical Center (BMC)
Keywords:
Healthcare workers, Training
Abstract
Background: Healthcare workers (HCWs) are considered as one of the cornerstones and play an important role inside the healthcare sector. However, health care workers (HCWs) in developing countries frequently work in challenging environments, mainly dealing with sciences and technology development. Thus, attention to involve the HCWs into training programs to meet their needs and to achieve a better level of work performance and to provide better health services in their institutions.
Methods: A descriptive cross-sectional study, aimed to explore the effects of training programs on healthcare workers performance at Benghazi Medical Center (BMC) in Benghazi city, Libya. 51 questionnaires were collected from March 2019 and end in June 2019 by using the impact of training on workers performance. Data were fed to statistical software package version 20.0 SPSS. Approval of the Ethical Committee of faculty of public health was obtained.
Results: High percentage (72.5%) of the study respondents had undergone training programs with healthcare institutions. The results also show that the majority of these respondents (59.5%) participated in training on the purpose of performance consideration and 75% associate training to their enhanced performance at work.
Conclusion: It may be indicated that training to a big extent can lead to an improved worker's performance but still it is not the only factor that can enhance worker's performance rather it is a combination of factors. Thus, further researches can be done on different factors in the healthcare sector, specifically concerning workers' performance factors such as training needs assessment, training programs design, development, are significant to study for exploring their effects on the workers' performance in the healthcare sector.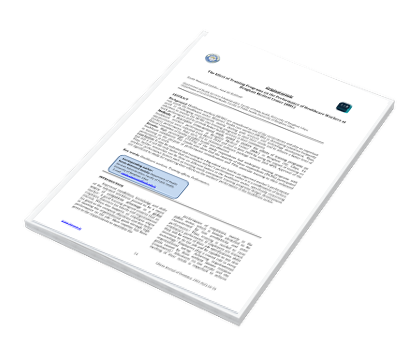 Downloads