Economic Evaluation of Mixed C4'sUpgrading Processes. (Raslanuf Ethylene Plant as a Case Study)
Keywords:
Ethylene, the upgrading of mixed C4,butadiene extraction, internal rate of return, sensitivity analysis
Abstract
Reducing the operating cost (opex) is a method implemented by Ethylene producers to keep ethylene prices from expensive feedstock more competitive in comparison with cheaper feed stocks like ethane. Alternatively economics maybe improved by upgrading the mixed C4 stream which is produced from ethylene plant and contains valuable unsaturated C4s such as butadiene, isobutylene, butene-1, and butene-2. There are different processing options available to recover these components or turn them into final products. These processing options or routes are combination of different chemical processes such as Total hydrogenation, Butadiene extraction, MTBE production form butylenes, Butane-1 recovery and other processes. Several upgrading options have been proposed and evaluated for Raslanuf ethylene plant c4 feed of about 130000 tonne/y. Internal rate of return IRR , payback time or period PBP, and the net present value NPV, all have been estimated for options which can be implemented at the site; butadiene extraction and metathesis.
Because base case results were not definitive, sensitivity analysis was performed. The parameters investigated are sales prices; feed cost, construction time and total investment. .The results suggest butadiene extraction is the best processing option for processing Raslanuf mixed C4 stream.
Downloads
Download data is not yet available.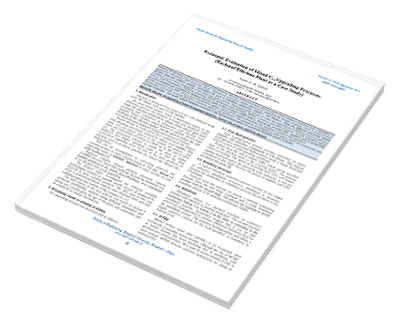 Downloads
How to Cite
Salem, I. (2017). Economic Evaluation of Mixed C4'sUpgrading Processes. (Raslanuf Ethylene Plant as a Case Study). Libyan Journal for Engineering Research, 1(2). Retrieved from https://journals.uob.edu.ly/LyJER/article/view/470
License
Copyright (c) 2021 Libyan Journal for Engineering Research
This work is licensed under a Creative Commons Attribution-NonCommercial-NoDerivatives 4.0 International License.