دور المصارف التجارية في تقويم مخاطر الائتمان وتخفيفها دراسة حالات متعددة من وجهة نظر إدارات الائتمان والمخاطر
Keywords:
commercial banking, credit risk assessment and mitigation
Abstract
The study aimed to identify the role of banks in assessing and mitigating credit risks. To achieve the aim of the study, the study relied on the approach of studying multiple cases as a method of research. This approach is ideal for understanding the different aspects of the problem under study. The study also collected its data by conducting personal interviews with officials in the risk and credit departments. The number of interviews was (15), and the number of banks participating in the study was (3) commercial banks. The study is based on descriptive statistics to analyze data, and the results of the study indicated that the banks participating in the study assess and analyze risks, as it reached 79% for banks as a whole, while the percentage of banks mitigating risks reached 24% for banks as a whole. This gives the impression that banks are unable to mitigate credit risks, but rather carry out an assessment and analysis of their risks. This reason can be attributed to the fact that the risk mitigation process requires many plans, programs and quantitative methods that are not yet available in risk and credit departments, and thus the study provided scientific evidence that banks have no role in mitigating credit risks and their role is limited only to the process of assessing credit risk only
The study recommends the need to pay attention to the risk mitigation process and work to meet its requirements by banks, and to conduct more studies and research on assessing and mitigating credit risks, using other methodologies and methods of collecting data that may contribute to increasing knowledge on this topic.
Downloads
Download data is not yet available.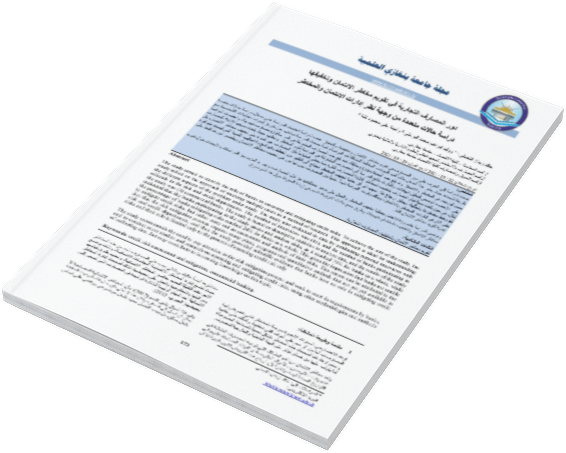 How to Cite
الفضلي خ. ز. . (2021). دور المصارف التجارية في تقويم مخاطر الائتمان وتخفيفها دراسة حالات متعددة من وجهة نظر إدارات الائتمان والمخاطر. The Scientific Journal of University of Benghazi, 34(1), 8. Retrieved from https://journals.uob.edu.ly/sjuob/article/view/176
License
This work is licensed under a Creative Commons Attribution-NonCommercial-NoDerivatives 4.0 International License.