العلاقات بين السيد أحمد الشريف السنوسي والمجابرة من خلال عينة من مراسلاته غير المنشورة لهم (1902-1933م)
Keywords:
Ahmad Al-Sharif Al-Senoussi, Al-Majabrah, Relations, Correspondence, Jalu
Abstract
This research focuses on the study of the relations between Mr. Ahmed Al-Sharif Al-Senoussi and Al-Majabrah between (1902 and 1933), through an unpublished local documentary sample, which lies in a series of letters sent by Mr. Ahmed Al-Sharif from various places inside Libya and Al-Hajaz to Jalu. This correspondence was therefore part of it during Mr. Ahmed al-Sharif's leadership of the Senussian Movement and Jihad against the French invasion in middle-Sudan (1902 and 1911). Others correspondence during his leadership of jihad in northern Libya against the Italians - then his campaign on the English colony in Egypt and his renunciation of the leadership of the Senussian movement - (1912 and 1918), the last remainder of which was during the development of internal events in Libya travelling to Istanbul from August 1918, and then staying in his last exile in Hijaz until his death in Al-Madina Al-Munawara  on March 10th, 1933.
Previous studies on these relations are rare and are only referred to by some brief references. This has led us to delve into the details of these relations by searching for unpublished local documents and addressing the difficulty of accessing their sources in the hope of revealing new content, unveiling their truth and details, and trying to evaluate them and compare them with some of the other trajectories of Senoussian leaders.
The importance of this research is based on highlighting the cumulative experience inherited by Al-Majabrah in trading through Egypt and Benghazi to Ojelah and Jalu and from Kufra to Wadi and Berno. Their expertise has resulted in important social alliances and business networks that have linked the roads' terminals and trading centers. We have therefore found an important documentary sample of fifteen letters sent to the witnesses and their men, nine of which were sent to Mr. Ahmed Al-Sharif and they preserved in the archives of Jalu Heritage association during the period under consideration. The importance of the topic lies in highlighting the crucial role played by Al-Majabrah in their support of the movement against the French and Italian colonizers by reaching out to Mr. Ahmed al-Sharif and fulfilling their obligations under the circumstances at the time. It also highlights the impact of the Senoussian movement in Jalu. The subject also aims to reveal the new aspects of the parties' social and jihadist relations, as contained in the documentary correspondence obtained.
Downloads
Download data is not yet available.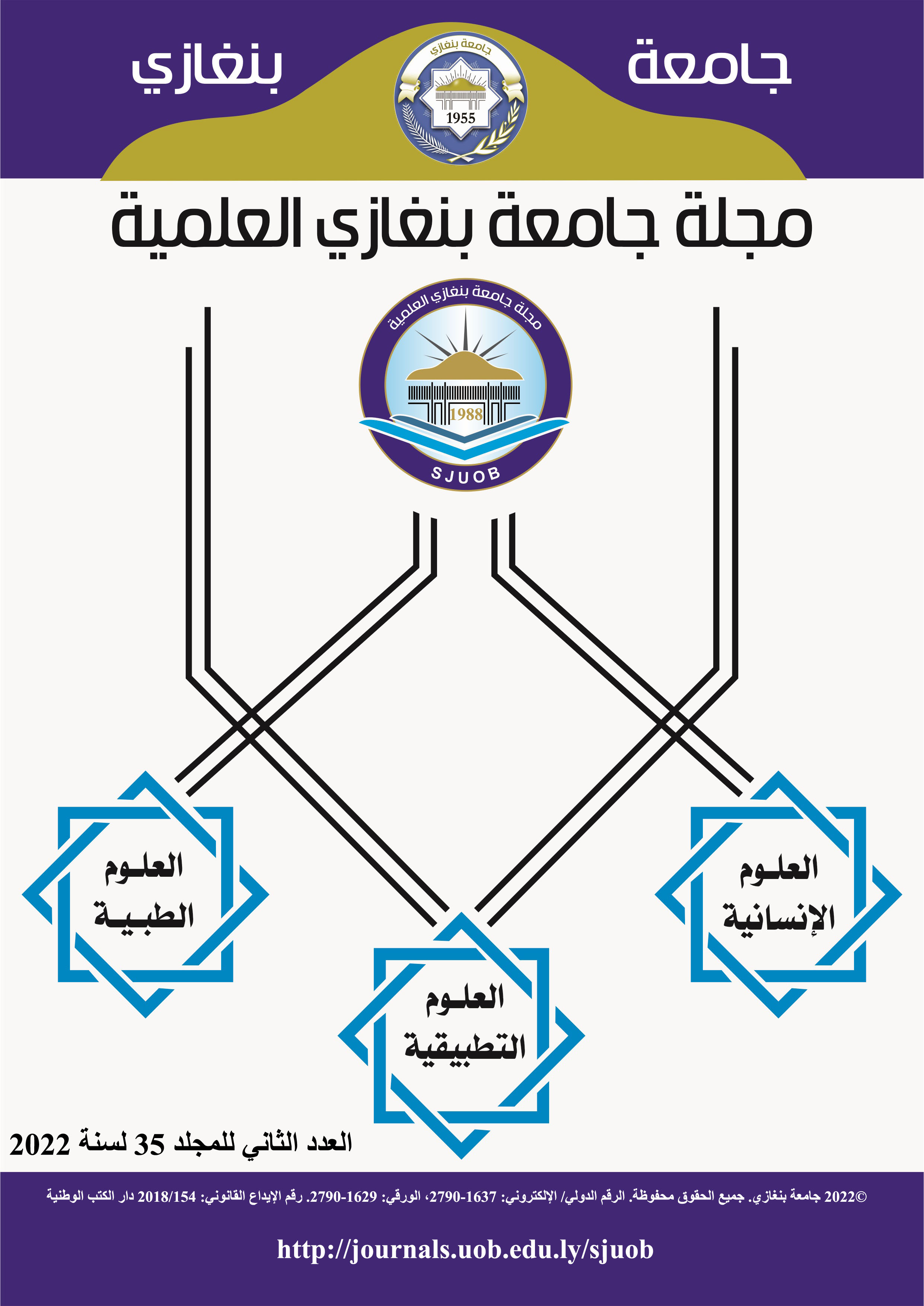 How to Cite
العلام ه. ع. ا. . (2022). العلاقات بين السيد أحمد الشريف السنوسي والمجابرة من خلال عينة من مراسلاته غير المنشورة لهم (1902-1933م). The Scientific Journal of University of Benghazi, 35(2). Retrieved from https://journals.uob.edu.ly/sjuob/article/view/3789
License
Copyright (c) 2023 The Scientific Journal of University of Benghazi
This work is licensed under a Creative Commons Attribution-NonCommercial-NoDerivatives 4.0 International License.