Synthesis and Solvent Dependent Fluorescence of 4-Amino naphthalene-1-sulfonic acid (AmNS)-Alginate (ALG) Bacterial Polymer
##plugins.generic.viewcounter.view##42
Keywords:
Fluorescence spectroscopy, Solvatochromic behavior, Spectral parameters, ; AmNS, bacterial polymers
Abstract
4-Amino naphthalene-1-sulfonic acid-alginate (AmNS-ALG) bacterial polymer flakes were synthesized and their spectroscopic properties were investigated. The solvatochromic behavior of the fluorescent polymer was monitored in solvents of diverse polarity using the excitation and emission fluorescence spectra combined with fluorescence lifetime measurements. The AmNS-ALG exhibited a positive solvatochromism with regard to the change of solvent polarity from high polar (water) to low polar (butanol). The excitation and emission intensities of AmNS-ALG increased markedly in water compared with alcoholic solvents. Measuring the quantum yield indicated that the highest values of quantum efficiency were obtained in more polar solvents. For AmNS-ALG in water and butanol, the greatest lifetime value was reduced from 11 to 7 ns. The obtained spectroscopic data suggest that the AmNS-ALG could be used as a medium polarity sensor.
Downloads
Download data is not yet available.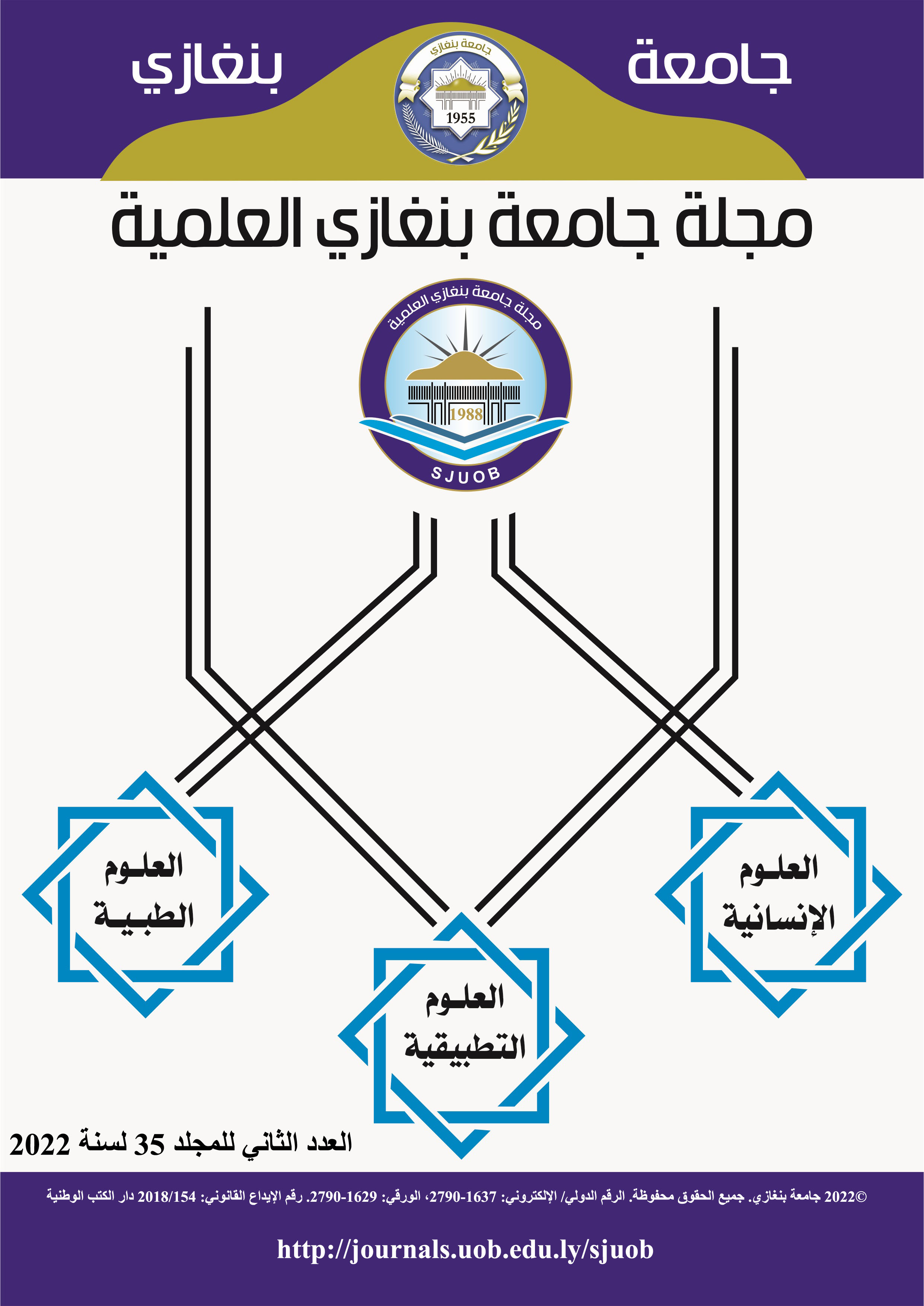 How to Cite
Eltaboni, F. . ., Abdelsalam , M. ., & Baaiu , B. S. . (2022). Synthesis and Solvent Dependent Fluorescence of 4-Amino naphthalene-1-sulfonic acid (AmNS)-Alginate (ALG) Bacterial Polymer. The Scientific Journal of University of Benghazi, 35(2). Retrieved from https://journals.uob.edu.ly/sjuob/article/view/3802
License
Copyright (c) 2023 The Scientific Journal of University of Benghazi
This work is licensed under a Creative Commons Attribution-NonCommercial-NoDerivatives 4.0 International License.