Ion-Selective Electrodes for the Determination of Periodate IO4- Using Periodate - Tetrazolium Chloride (TTC) as an Ion-Pair and its Applications
##plugins.generic.viewcounter.view##24
Keywords:
Ion-selective electrodes, Periodate, Tetrazolium chloride, Wastewater
Abstract
Poly (vinyl chloride) (PVC) membrane-based of 2, 3, 5 –Triphenyltetrazolium Chloride (TTC)- KIO4 with sodium tetraphenylborate (NaTPB) as an anion excluder and dioctylphthalate (DOP) and dioctylsebacate (DOS) as plasticizer were prepared and studied as a KIO4– selective electrode. The best performance was observed with the membrane having the ligand (TTC KIO4 – PVC – plasticizer (DOP) – NaTPB (sodium tetraphenylborate) composition 5: 100: 200: 5mg, respectively, which worked well over a wide concentration range (1.5×10−6 M – 1.0×10−1M) with a Nernstian slope of 50–55.0 mV per decade of activity between pH 3 and 10.0. These electrodes showed a fast response time of 5 – 15 s and were used over a period of 90 dyes with good reproducibility. The selectivity coefficient for monovalent and divalent anions indicated excellent selectivity for IO4- ions over a large number of anions. The sensor has been used to determine IO4- ions from Ojela and Jalu/ Libyan water wells and wastewater.
Downloads
Download data is not yet available.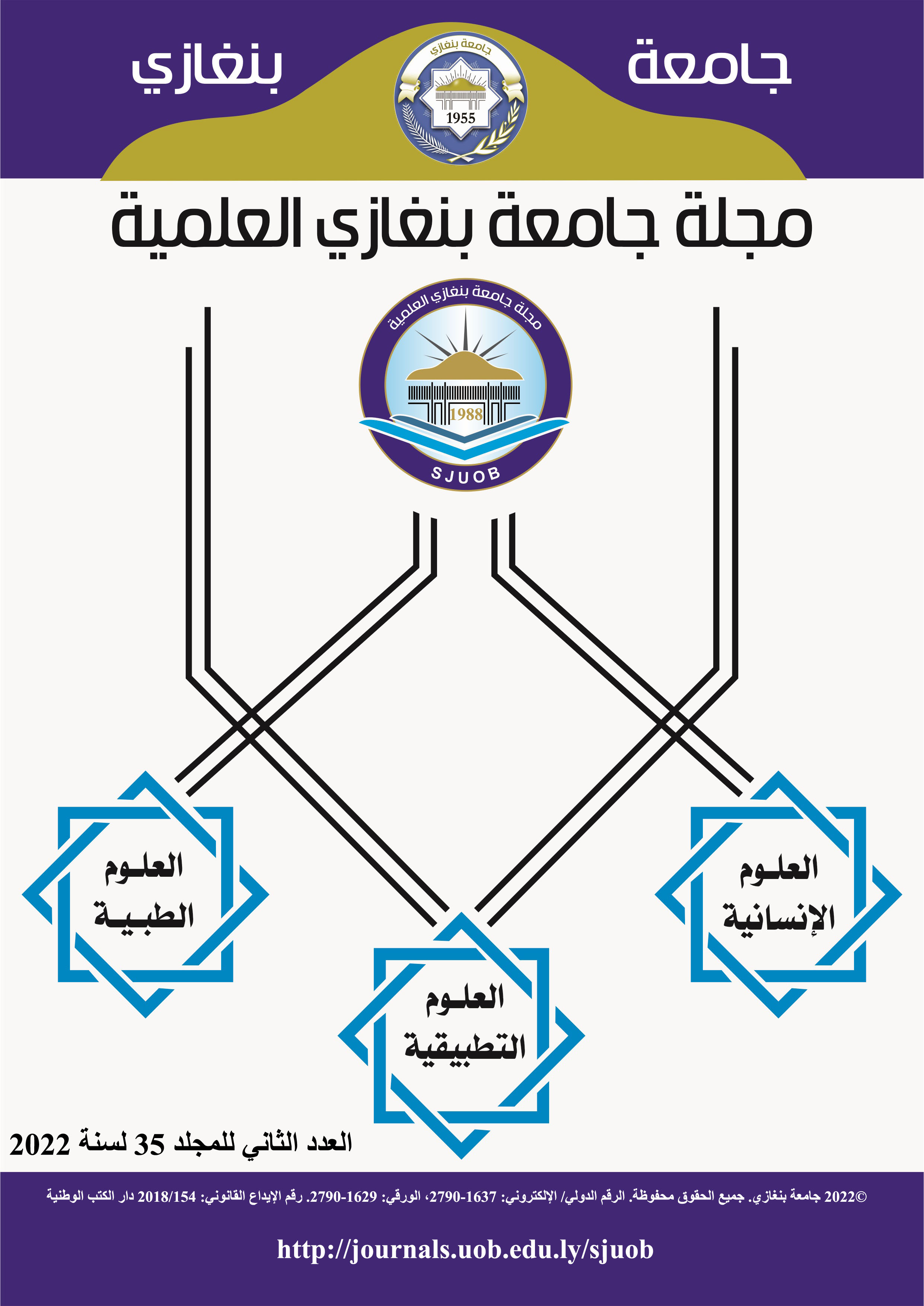 How to Cite
Matter , H. A. ., & Ayad , T. M. . (2022). Ion-Selective Electrodes for the Determination of Periodate IO4- Using Periodate - Tetrazolium Chloride (TTC) as an Ion-Pair and its Applications . The Scientific Journal of University of Benghazi, 35(2). Retrieved from https://journals.uob.edu.ly/sjuob/article/view/3803
License
Copyright (c) 2023 The Scientific Journal of University of Benghazi
This work is licensed under a Creative Commons Attribution-NonCommercial-NoDerivatives 4.0 International License.