تقييم تأثير مخلفات البطاريات المنزلية الجافة على الإنبات وتطور بادرات نباتي البصل Allium cepa والجرجير Eruca Sativa
Keywords:
Wastes, Dry Household Battery, Germination, Onion (Allium Cepa), Arugula (Eruca Sativa)
Abstract
This study aimed to evaluate the germination of seeds of onion Allium cepa and Arugula Eruca Sativa plants in an environment contaminated with dry household battery wastes, by irrigating the seeds of the studied plants with different concentrations of soil extracts and battery wastes, control (distilled water), 0 (soil extract), 5, 10, 15%. The results showed that there were no significant differences for the effect of irrigation with battery wastes on the percentage of germination of arugula seeds. Moreover, all treatments reached a percentage of 100% germination seventh day of growth, addition very high significant differences found at the level of 0.05% on the germination of onion seeds. The treatments also caused to decrease the growth of seedlings in the early stages of germination then their growth increased in both plants by increasing the concentrations of the treatments. The highest values were for the root 1.9, 13.9 cm and for the plume 37, 67 cm for the arugula and onion plants, respectively, which indicates the ability of the two plants to germination in environments contaminated with battery wastes and its content of heavy elements, and the possibility of absorption and transmission to the consumer organisms.
Downloads
Download data is not yet available.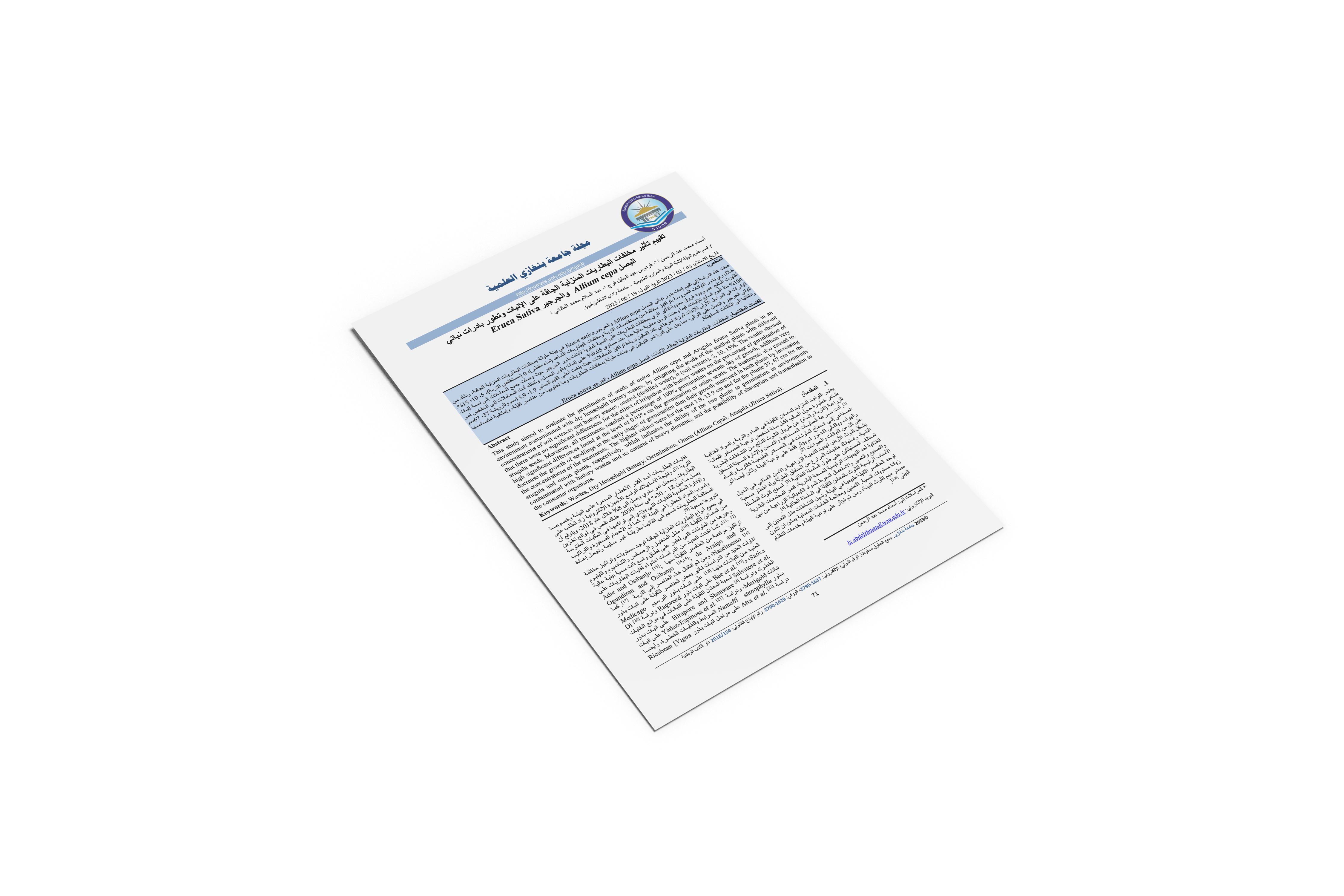 How to Cite
عبد الرحمن أ. م. ., فرج ف. ع. ا. ., & المثناني ع. ا. م. . (2023). تقييم تأثير مخلفات البطاريات المنزلية الجافة على الإنبات وتطور بادرات نباتي البصل Allium cepa والجرجير Eruca Sativa. The Scientific Journal of University of Benghazi, 36(1). Retrieved from https://journals.uob.edu.ly/sjuob/article/view/3928
License
Copyright (c) 2023 The Scientific Journal of University of Benghazi
This work is licensed under a Creative Commons Attribution-NonCommercial-NoDerivatives 4.0 International License.