الإصابات الرياضية الأكثر حدوثاً وأسبابها لدى لاعبي ألعاب القوى
Keywords:
Pharmacy Accreditation, Standards, Pharmaceutical Service
Abstract
Objective: This research aims to identify the most common sports injuries among athletics players (field, track, and cross-country), their degrees, period of occurrence, time of occurrence, the most injured parts, and the most significant reasons for their occurrence. Subjects and methods: The researchers relied on the descriptive survey approach to suit the nature and objectives of the research, and the research sample included (29) athletics players in the city of Benghazi, with a percentage of (41.43%) of the research population. The researchers used a questionnaire about injuries to collect and analyze information. Results: The results showed that the most frequent injuries were contractures and then bruises and the degrees of injury ranged from light to medium. Additionally, the period of their occurrence was during training, and the time of their occurrence was in the middle of the training period, with the lower part of the body the most exposed to injury. The most important reasons for the occurrence of injury were the lack of sports rehabilitation means (massage, sauna, warm water, cold water, etc). Conclusion: The researchers recommended a sufficient warm-up before starting training and before the start of the competitions, taking into account the individual differences between players, and graduating in intensity when performing exercises in training because of its role in reducing the level of injuries.
Downloads
Download data is not yet available.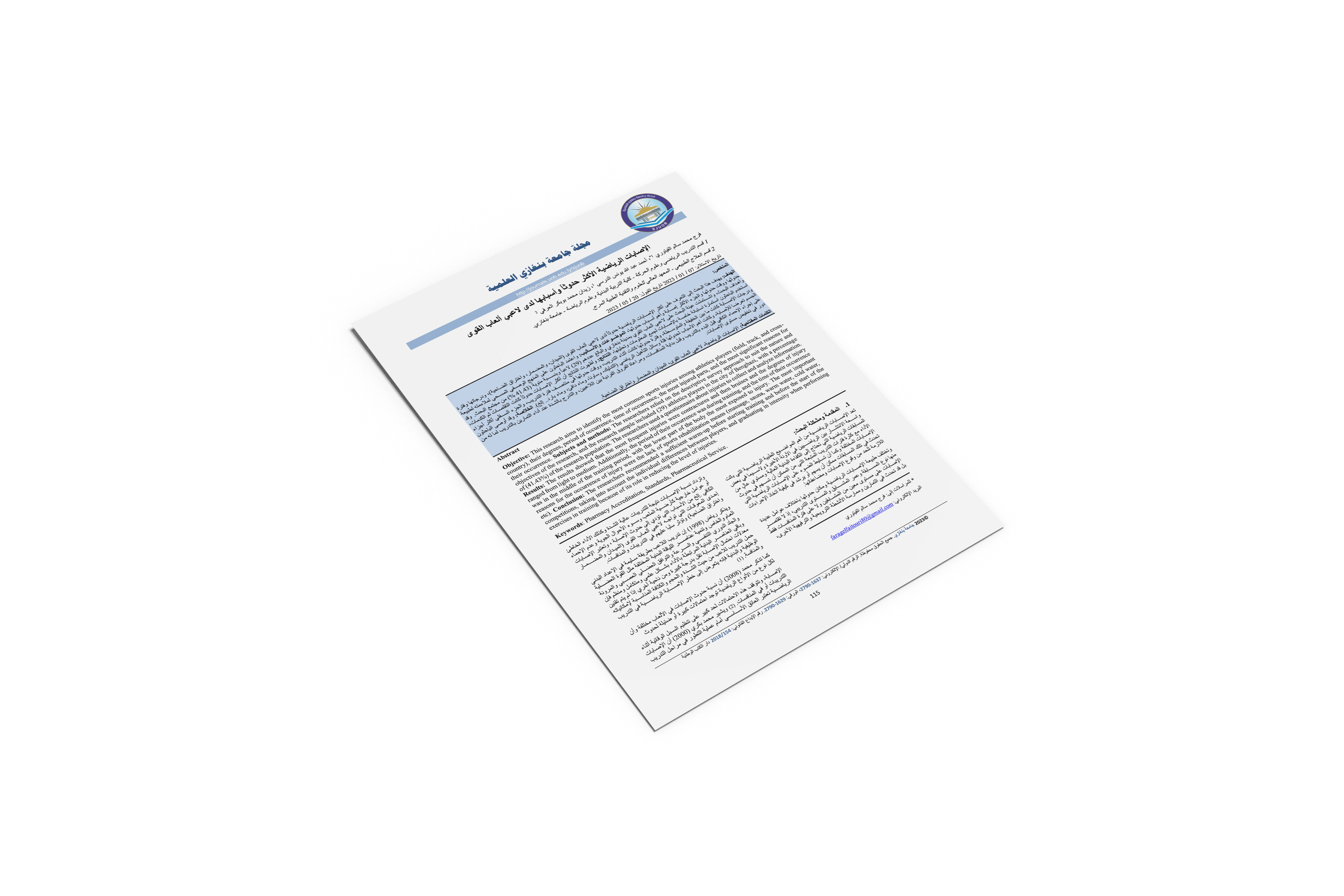 How to Cite
الفيتوري ف. م. س. ., الدرسي أ. ع. ا. ي. . ., & العرفي ز. م. ب. . (2023). الإصابات الرياضية الأكثر حدوثاً وأسبابها لدى لاعبي ألعاب القوى. The Scientific Journal of University of Benghazi, 36(1). Retrieved from https://journals.uob.edu.ly/sjuob/article/view/3939
License
Copyright (c) 2023 The Scientific Journal of University of Benghazi
This work is licensed under a Creative Commons Attribution-NonCommercial-NoDerivatives 4.0 International License.