دراسة نقص الزنك في جسم الإنسان وآثاره الصحية من خلال التحاليل المخبرية في منطقة الواحات
Keywords:
zinc deficiency; disease resistance; immune system; statistical study
Abstract
Zinc is of paramount importance to human health in its ability to resist diseases and raise the efficiency of the immune system. In this study, we wanted to determine the level of zinc deficiency in the oasis region, and a statistical presentation of 304 samples in the analysis laboratories in the oasis region. The results showed that about 48% of the samples have a deficiency in zinc, and about two-thirds of this percentage are females, and the statistical study showed that their average age is about 32 years, while the average for males increased to 46 years, and for this the study indicated the need to eat foods rich in zinc, especially for teenage girls or at the age of marriage. , or by taking zinc-containing medicines or supplements, as well as men over the age of forty, and the treatments used for zinc deficiency range from taking medical drugs to nutritional supplements, and it may be possible to prevent the development of certain types of zinc deficiency diseases by maintaining a balanced, varied and healthy diet. In this study, we talked about the importance of zinc, the sources of obtaining it, in addition to its deficiency, the treatment of this deficiency, and the necessary analyzes to examine it with clarification and explanation for the benefit. The samples were taken from the analysis laboratories located in the neighborhoods of the city of Gallo, which are: Al-Labba, Al-Erak, Al-Sharaf, and Al-Rashidah. These laboratories use A-Faith automatic child body microelement analyzer test for blood devices after collecting blood samples, preparing them for examination using a centrifuge, preparing the serum, placing it in the analysis device and analyzing the results.
Downloads
Download data is not yet available.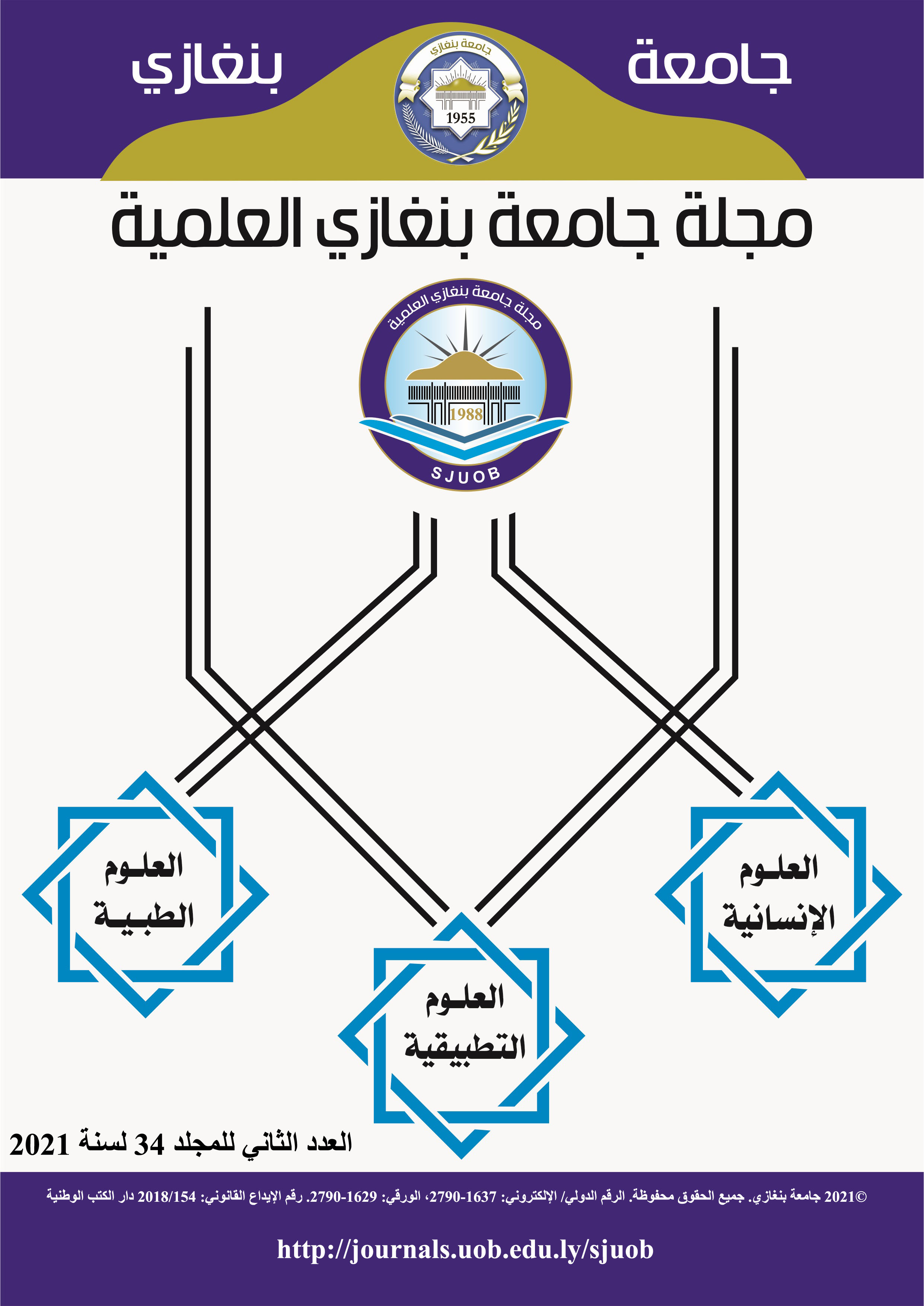 How to Cite
مطر ح. ع. ا. ., عياد ط. م. ع., & أحمد أ. م. . (2021). دراسة نقص الزنك في جسم الإنسان وآثاره الصحية من خلال التحاليل المخبرية في منطقة الواحات. The Scientific Journal of University of Benghazi, 34(2). Retrieved from https://journals.uob.edu.ly/sjuob/article/view/3222
License
Copyright (c) 2022 The Scientific Journal of University of Benghazi
This work is licensed under a Creative Commons Attribution-NonCommercial-NoDerivatives 4.0 International License.