دراسة إحصائية لمرضى الفشل الكلوي المترددين على المختبرات الطبية في منطقة الواحات
Keywords:
Renal Failure, Creatine, Urea, Uric Acid, Albumin
Abstract
The kidney plays an important role in getting rid of urea and excretory materials, and when its functions weaken or become infected with diseases such as salts, stones, ureteral obstruction, or others, then kidney failure is the inevitable end of all kidney diseases. Hence, 827 samples were collected, 46% of the females were 54% of the males. The high percentages for the analyzes were 44.25%, the low percentages were 55.75%, the high percentages for females were 41.8%, and for males were 58.2% of the total high percentages. The low percentages in females were 49.3% and 50.7% of the total low percentages. Data of 259 creatine, 256 urea, 76 uric acid, 87 samples for albumin analysis, 62 chlorine, 32 sodium samples, and 44 potassium samples were collected from those who attended the analyzes laboratories in the study area Gallo during the period of 2021. The results showed a higher percentage of creatine in males than females, which is attributed to the presence of creatine in the muscles. As for the percentages of urea, uric acid, and albumin, they are about twice as high in females than in males, which indicates that they are more susceptible to kidney disease and then kidney failure. As for the sodium and potassium salts, they are much higher in males than in females, and the low numbers of low values ​​in them warn that More than half of the cases are exposed to kidney disease and then kidney failure, and what reinforces this hypothesis from laboratory results and statistical indications is the high rates of albumin in females compared to males. The study showed the statistical processes of the high and low rates of the analyzes. The results show that the average mean of the high values ​​is 68 years for both sexes, while the average of the low values ​​is 42 years for both sexes, and that the skewness coefficient for most of the high results is negative skew, which indicates the high ages of the owners and vice versa in most of the low results. The coefficient of skewness is positive.
Downloads
Download data is not yet available.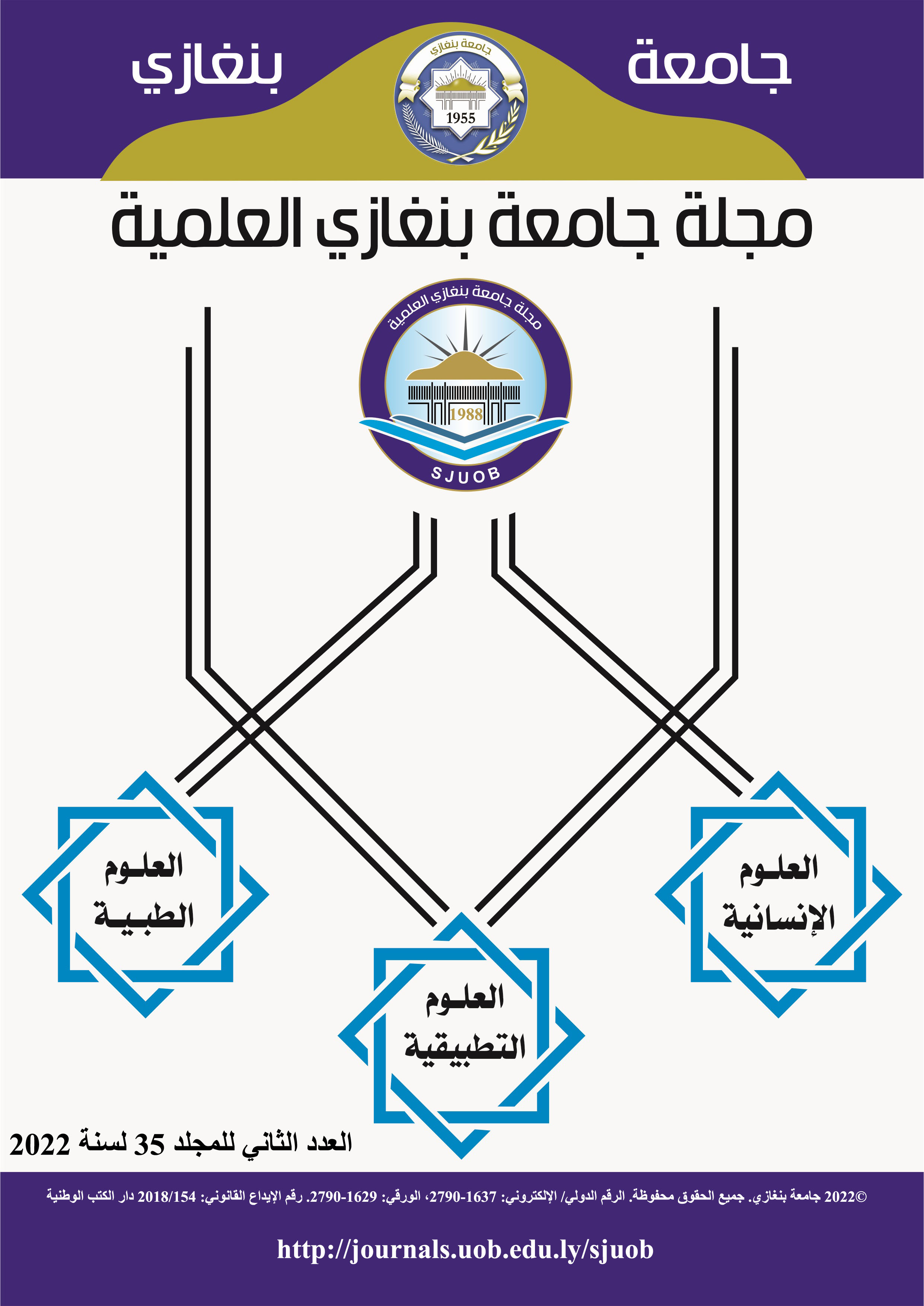 How to Cite
مطر ح. ع. ا. ., عياد ط. م. ., & موسى ش. ع. ا. أ. . (2022). دراسة إحصائية لمرضى الفشل الكلوي المترددين على المختبرات الطبية في منطقة الواحات. The Scientific Journal of University of Benghazi, 35(2). Retrieved from https://journals.uob.edu.ly/sjuob/article/view/3800
License
Copyright (c) 2023 The Scientific Journal of University of Benghazi
This work is licensed under a Creative Commons Attribution-NonCommercial-NoDerivatives 4.0 International License.